Lakewood Orthodontics is a premier orthodontic practice located near Blue Springs, Missouri. At our practice, we provide patients of all
ages with comprehensive and specialized orthodontic care. Our team of highly qualified professionals is led by our skilled and knowledgeable Blue Springs orthodontists. 
As one of the most reputable orthodontists for children in Blue Springs, we know that early treatment is key. Early orthodontic treatment facilitates the healthy growth and development of your child's teeth and jaw. Our staff receives specialized training for orthodontic care. This training allows us to recognize and treat potential orthodontic concerns in young patients. Detecting these issues early helps us ensure that these individuals receive the appropriate care at the right time.
We place a strong emphasis on providing a pleasant and exciting experience for our younger patients. Our staff assists them in developing a sense of ease and self-assurance during the entirety of their orthodontic treatment. We want to make children's orthodontic treatment isn't traumatic. Believe it or not, their orthodontic experience can be rewarding for both the child and the family. Our children's orthodontist in Blue Springs develops trust by cultivating a positive relationship with each patient.
Pediatric Orthodontist in Blue Springs
Our Blue Springs pediatric orthodontists are dedicated to providing the greatest level of care possible to our young patients. Early intervention, growth modification, as well as phase 1 and phase 2 of orthodontic treatment are some of the many treatment options for pediatric orthodontists in Blue Springs. These are all part of the comprehensive spectrum of care that we provide to meet the specific requirements of growing children.
Because we are aware that each child is unique, we take the time to create a customized treatment plan that is intended to produce the most favorable results for your child's smile. Your child will be regularly monitored by our pediatric orthodontist in Blue Springs as they continue to grow and develop. At Lakewood, we'll make the necessary adjustments to guarantee the best possible outcome.
Adolescent Orthodontist in Blue Springs
Because the majority of permanent teeth have already emerged and the facial bones are still growing, the adolescent years represent an essential window of opportunity for orthodontic treatment. We strive to be an adolescent orthodontist in Blue Springs that you can trust. We also provide a number of orthodontic treatment choices at our facility. Having numerous options helps address the one-of-a-kind orthodontic requirements of each patient. These treatment options include traditional braces, clear aligners, as well as other solutions.
Because we are aware of the significance of self-assurance at this period of a person's development, we make it a priority to offer orthodontic treatment options that are both unobtrusive and highly efficient. As a result, we are able to help our adolescent patients achieve a beautiful and healthy smile while preserving their self-assurance.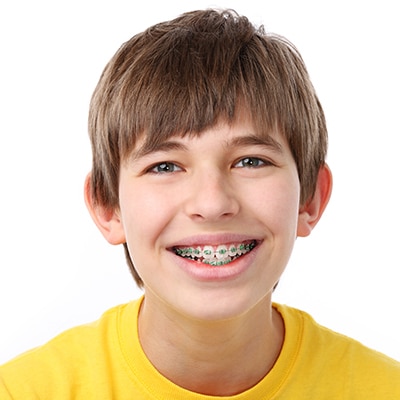 All Ages Receive a Complete Orthodontic Exam and Treatment
Beyond providing specialized care for children and adolescents, our dedication to excellence at Lakewood Orthodontics encompasses all aspects of orthodontic treatment. We provide patients of any age with a comprehensive selection of orthodontic therapies, including adult orthodontics, Invisalign, clear aligners, and a lot more.
Do you need orthodontic care for your family in Blue Springs? If so, Lakewood Orthodontics is ready to assist. Get in touch with us right now to book a consultation and learn more about how our individualized and experienced treatment may help your child get a dazzling smile that gives them that extra boost of confidence.
Call us today at (816) 373-0300 and schedule your appointment with a leading orthodontist in Blue Springs.