Our team at Lakewood Orthodontics is dedicated to offering our patients in Blue Springs, Missouri the best possible orthodontic care. Our knowledgeable and welcoming staff, under the direction of our skilled Invisalign Orthodontists, provides a variety of procedures, including traditional braces, transparent aligners, and more. Our cutting-edge facility and individualized approach will guarantee that you receive the best care in a relaxing and friendly setting.
Invisalign Orthodontist in Blue Springs
We are pleased to provide our patients with this cutting-edge and incredibly successful treatment option. As a leading Invisalign orthodontist in Blue Springs, we strive to offer the most popular and effective solutions in orthodontics, and Invisalign is definitely one of the top choices among our clients. Each patient's customized Invisalign clear aligners offer a comfortable and discrete way to straighten teeth and address a variety of orthodontic problems.
Wearing a set of transparent, removable aligners will progressively move your teeth into the ideal position. Since these aligners are almost undetectable, you can remain confident while receiving treatment. Additionally, they are a practical option for people who lead busy lives, as they are simple to remove for eating, brushing, and flossing.
We want you to have a vibrant, healthy smile, and our Invisalign orthodontist in Blue Springs will thoroughly evaluate your unique needs and create a custom treatment plan to accomplish this. We will closely track your development as you use Invisalign and make any required modifications to guarantee the best outcome.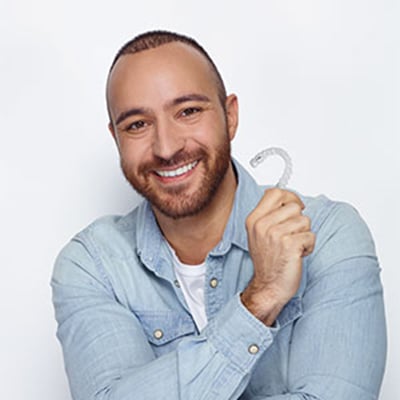 Clear Aligner Orthodontist in Blue Springs
At Lakewood Orthodontics, we provide patients looking for a covert and efficient orthodontic solution with other transparent aligner solutions besides Invisalign. As a reputable clear aligner orthodontist in Blue Springs, we have years of experience using cutting-edge clear aligner technology to treat a range of orthodontic situations.
For people looking for a less obvious alternative to traditional braces, clear aligners are a great option. They are built to order to comfortably fit your teeth and are intended to progressively reposition your teeth to the appropriate position. Together, you and our clear aligner orthodontist in Blue Springs will choose the best course of action for your particular requirements and objectives.
At Lakewood Orthodontics, We Provide Complete Orthodontic Care
Our dedication to excellence at Lakewood Orthodontics extends beyond the use of Invisalign and transparent aligners. In addition to conventional braces, we also provide early intervention, adult orthodontics, and other orthodontic therapies. Our clear aligner orthodontists and Invisalign orthodontists in Blue Springs are committed to giving patients of all ages a lifetime of healthy, attractive smiles.
We take the time to listen to your problems and create a specialized treatment plan because we recognize that every patient's orthodontic experience is unique. You can rely on our knowledgeable and sympathetic staff to offer the best possible care and support from the start of your treatment all the way through.
At Lakewood Orthodontics, you can learn how receiving individualized, professional orthodontic care may improve your life. Schedule a consultation with one of our Invisalign or clear aligner orthodontists very soon by contacting our office today. Whether you need an Invisalign orthodontist in Blue Springs or a clear aligner orthodontist in Blue Springs, we look forward to assisting you in developing the gorgeous, self-assured smile you deserve.